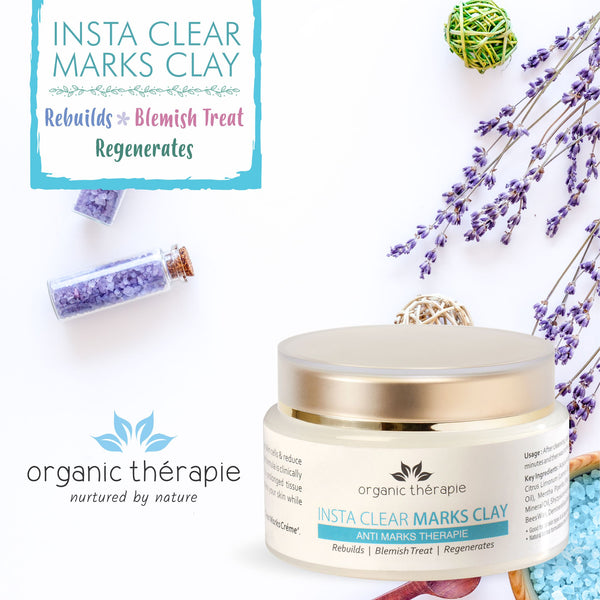 Insta Clear Marks Clay • Regenerates • Blemish Treat • Rebuilds
Organic Therapie Insta Clear Marks Clay 
• Regenerates • Blemish Treat • Rebuilds
Product Highlights:
• Clinically Proven to Repair Severe Tissue Damage
• Treats Deep Rooted, Stubborn Marks
• Firms & Tightens Skin Cells
• Blessed with Nourishing Herbs to give you Bright & Clear Skin
• Fortifies Ruptured Tissues
• Improves Cell Immunity to Prevent Further Damage
Product Details:
This is a revolutionary treatment mask to energize damaged skin cells & reduce even the most rigid discolorations. Its Insta Glow formula is clinically proven to work effectively, even in the most hopeless & prolonged tissue damage cases. Enhanced with Kaolin Clay, it firms & tightens your skin while giving you a brighter & clearer look. Also, it fortifies ruptured tissues & improves cell immunity to prevent further damage.
For Best results, also use 'Insta Clear Marks Serum' & 'Insta Clear Marks Creme'.
Active Ingredients:
Mentha Piperita, Acacia Arabica, Citrus Lemonum Oil, Juniperus Communis, Sillicate Minerals, Aloe Barbadensis Extract, Melaleuca Alternifolia, Cupressus Sempervirens, Citrus Bergamia, Shyzsiyum Aromaticum.
Directions of Use:
After cleansing, apply a thin layer of it on skin (face & body). Leave it on for 10-15 minutes. Wash it off once it dries. Use 1 - 2 times a week.