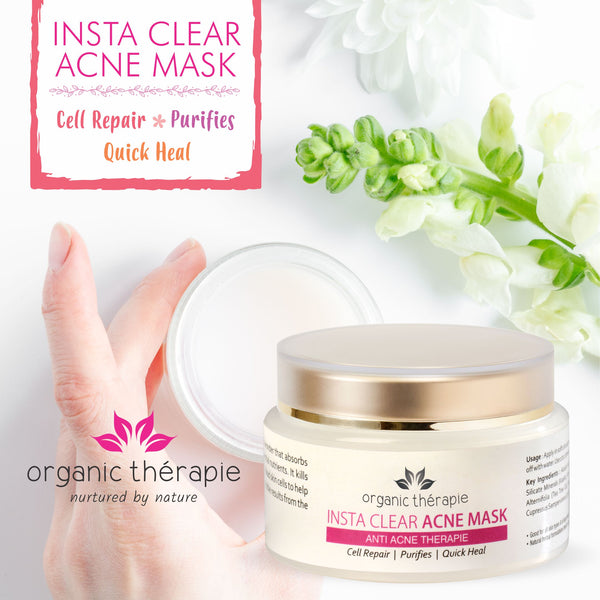 Insta Clear Acne Mask • Cell Repair • Purifies • Quick Heal
Organic Therapie Insta Clear Acne Mask
• Cell Repair • Purifies • Quick Heal
Product Highlights:
• Absorbs Excess Oil
• Gently Removes Impurities & Dead Skin
• Clears Acne Causing Bacteria & Cells to Prevent Clogged Pores
• Ensures Visible Results from the 1st Use

Product Details:
Organic Therapie Insta Clear Acne Mask is a medicated wonder that absorbs excess oil without drying or depleting your skin of essential nutrients. It kills acne causing bacteria and gently removes impurities & dead skin cells to help prevent clogged pores. Its Insta Clear formula ensures visible results from the first use itself.
For best results, also use 'Organic Therapie Insta Clear Acne Creme'.
Active Ingredients:
Acacia Arabica, Crocus Sativus Extract, Silicate Minerals (Kaolin), Aloe Barbadensis Extract, Melaleuca Alternifolia, Citrus Limonum, Cupressus Sempervirens, Citrus Bergamia.
How To Use:
Apply in soft circular motion in upward strokes. Leave it on for 10-15 minutes & then wash it off with water. Use 1 - 2 times a week.